Joined

Sep 21, 2009
Messages

2,320
Reaction score

326
Location
Website
In this thread, we will explore how Keyboard and carnatic raagas are related. how it could be utilized in a better way.
Usually there are 72 melakarta ragas and for all possible combinations of seven-note scales from the 16-note classification of the octave (36 of them with the natural 4, and 36 with the raised 4). For example, major, melodic minor, harmonic minor, Dorian, Lydian, Mixolydian b6, Ionian b2b6, etc.—and virtually any other seven-note mode or scale you can think of—are among these ragas. From the parent ragas, 34,776** ragas (five-note ragas; six-note ragas; five-notes-going up, seven-coming-down ragas; etc.) called janya ragas are derived.
You can use the following image as a reference point.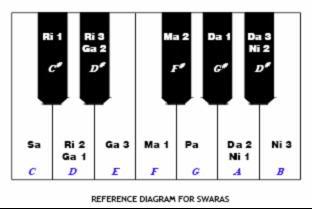 Last edited: